Where to Eat Green in Odense?
Danish traditional cuisine could be simply associated with potatoes and bacon. If you are a vegetarian or vegan you probably know the struggle of finding a place to eat out. However, this spring might be greener than green as two new vegan cafes are about to be opened in Odense.
Venchi
Right in the city center, in Vestergade, the first 100% vegan restaurant in Odense Venchi welcomes its first costumers. On Venchi menu you will find sandwiches, burgers, nachos, Danish open-faced sandwiches smørrebrød, cake and coffee made from organic ingredients. The opening hours are planned to be Sunday-Thursday 10-20 o'clock and Friday-Saturday 10-21 o'clock.
Find Venchi on Facebook.
Café Kosmos Vegan & Organic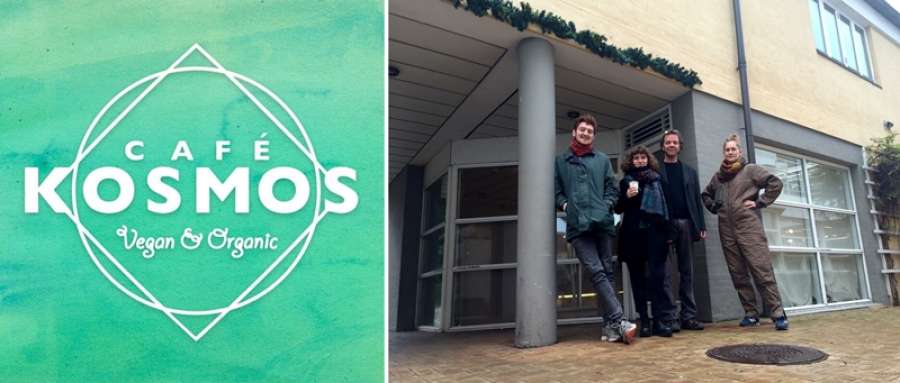 With a focus on sustainability and animal welfare Café Kosmos Vegan & Organic is preparing a vegan menu, based on local organic ingredients. Café Kosmos is an initiative by ØKOllektivet - a group of passionate people, willing to promote the idea of organic, plant-based diet. ''A place for all, open to all and with a focus on food is much more than just food'', states ØKOllektivet. The café will be located at Lottrups Gård 1.
Find Café Kosmos on Facebook.
Følkekøken
Følkekøken translates as People's Kitchen in English. It is not a surprise that the initiative aims to bring people together and promote the idea of vegan diet. Følkekøken is a pop-up café serving vegan and vegetarian dishes on Thursdays at Ungdomshuset Odense. And once again, it is a group of ØKOllektivet volunteers running the initiative. As People's Kitchen is for people you can be a part of it, either by supporting the cause and inviting your friends for a veggie dine out for a symbolic price or volunteering to help out in the kitchen.
Find Følkekøken group on Facebook.
Odense Fødevarefællesskab

A name not easy to pronounce for internationals (and Danes?) Odense Fødevarefællesskab is a food co-op working to provide products from local suppliers to the members of the association. By becoming a member of the association one gets a possibility to buy a weekly bag of vegetables and fruits from local producers. What is in the bag depends on the season of the year. Sounds interesting? Visit Odense Fødevarefællesskab on Wednesday afternoons at Falen 6, Odense, where you will find some of the volunteers to talk to.
Have a look at Odense Fødevarefællesskab website and Facebook page.
Find a second part of the guide Where to Eat Green in Odense here.
Do have more tips for veggie lovers in Odense? What's your favorite place to dine out with vegetarian or vegan dishes on the menu?
Images: Venchi, Café Kosmos and Odense Fødevarefællesskab.