Malgorzata Ravn art helped me to survive
In the heart of Odense, Denmark, there is a street called Nedergade. Next time you find yourself there, surrounded by fairytale architecture and tiny art shops, look for a house number 22. Through the window you might notice a figure of a dark-haired lady working on a painting. She is Malgorzata Ravn - the artist behind and the owner of MalRavnArtGallery.
Tell me more about your personal story, Malgorzata. What brought you to Denmark?
I come from Bytom in Southern Poland. There I worked as a headmistress of a big school of gastronomy, hotels and tourism business. I loved my job, my staff and my students. It is not very easy for Polish students to travel, mainly because of financial situation, so a lot of my work was focused on writing and developing EU projects together with other countries, to give students the possibility to get experience abroad. About ten years ago I started working with different schools in Denmark, like Kold College in Odense or a school in Svendborg. My students were working in many different hotels and restaurants around Funen.
It has been 4 years since I moved to Denmark - love brought me here. Me and my husband Finn were talking a lot until we made this decision. It was really difficult for me to leave my family, friends and job in Poland, however, I did not want a long-distance relationship. It was craziness to travel between Poland and Denmark every time.
I believe it is almost always a woman who has to lose something because of love. But even thought it was very hard, I'm not sorry and I could do it again. Because what really counts in life is love. I have found my soulmate - Finn is the best man ever! He supports me in everything I'm doing in my life and doesn't let me give up.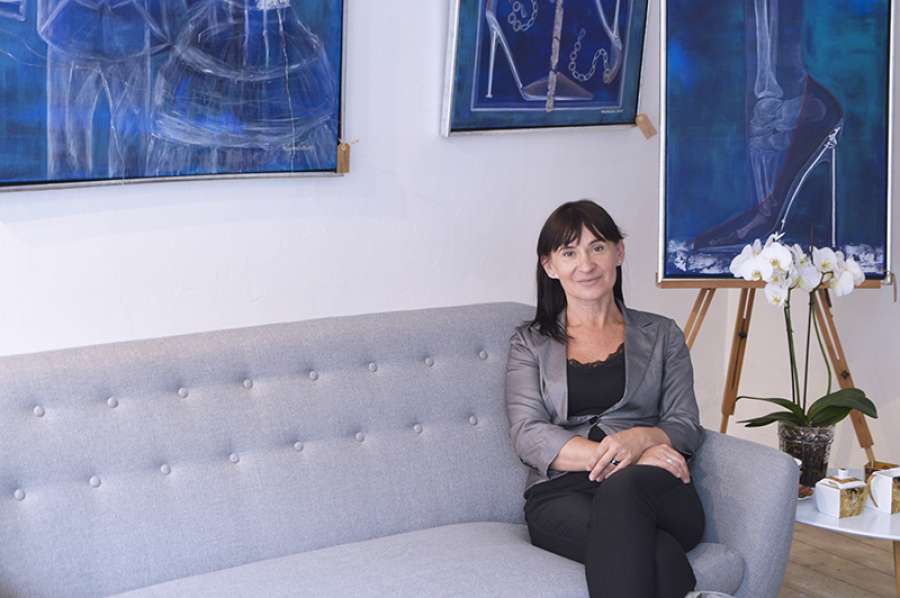 So you quit your job, moved to Odense and then… started painting?
It was hard, especially at the beginning. I knew that I could not find the same type of job as I had in Poland. I could have stayed at home as a "house-wife", but it's not my style of life: I have a lot of energy, ideas and I need people around me.
I attended a weekend art academy at Academy of Fine Arts in Katowice, in Poland. Painting was my big passion and hobby. I had a couple of exhibitions back in Poland.
When I moved to Denmark art helped me to survive and now my hobby turned to be my job. Here, in Denmark, I have found naïve paintings as a very interesting and positive style of art. This was totally new for me. Now I enjoy painting colourful houses connected with paper-cut figures "The Land of Andersen". It gives me a lot of happiness and positive energy.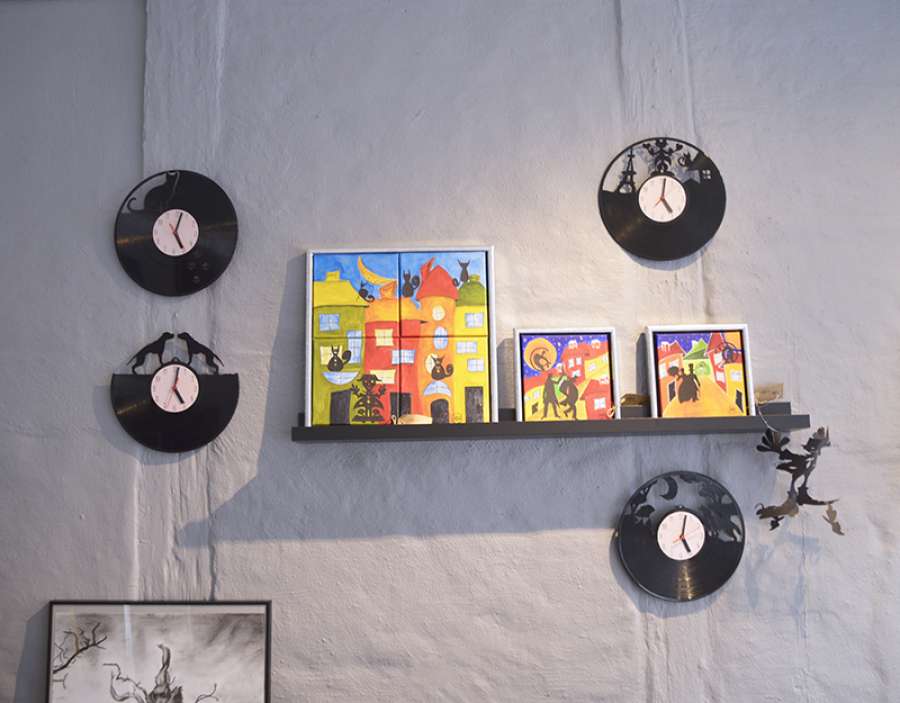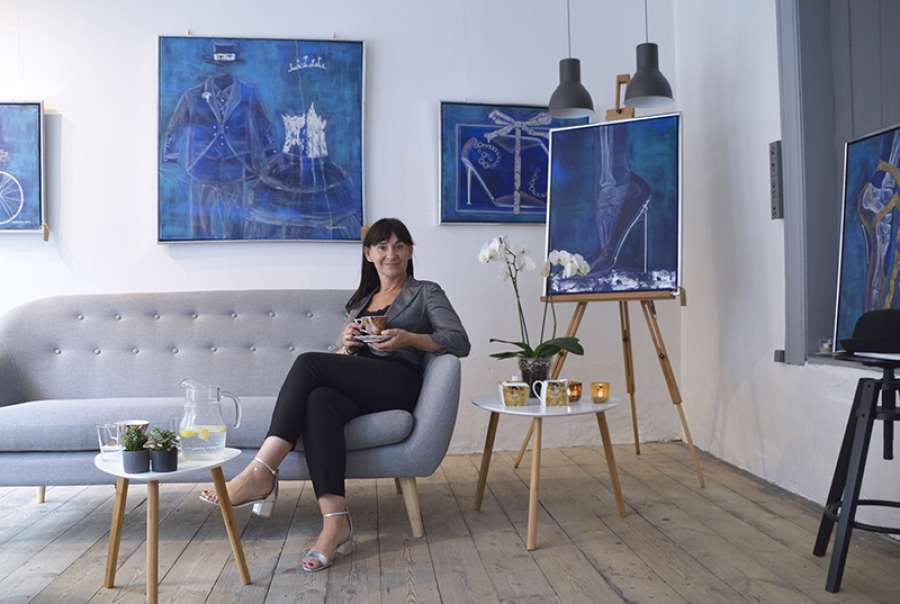 What are the art projects you are currently working on?
I love to work on my X-ray series. It started as a funny story. Once a friend of mine, who is a doctor, asked if I could paint something to decorate a waiting room in his clinic. He told me "Don't paint flowers or animals, find an idea!". So for two weeks I was sitting and thinking about it. Then one day I asked him if he could send me an x-ray photo, and that is how I started painting. Two of my paintings from this series are hanging in his clinic.
Moreover, I really like H.C. Andersen's fairytales and as I am living in Odense, I have recently started doing paper-cut in Andersen's fairytale motives, which I connect with my naïve art style paintings of colourful houses.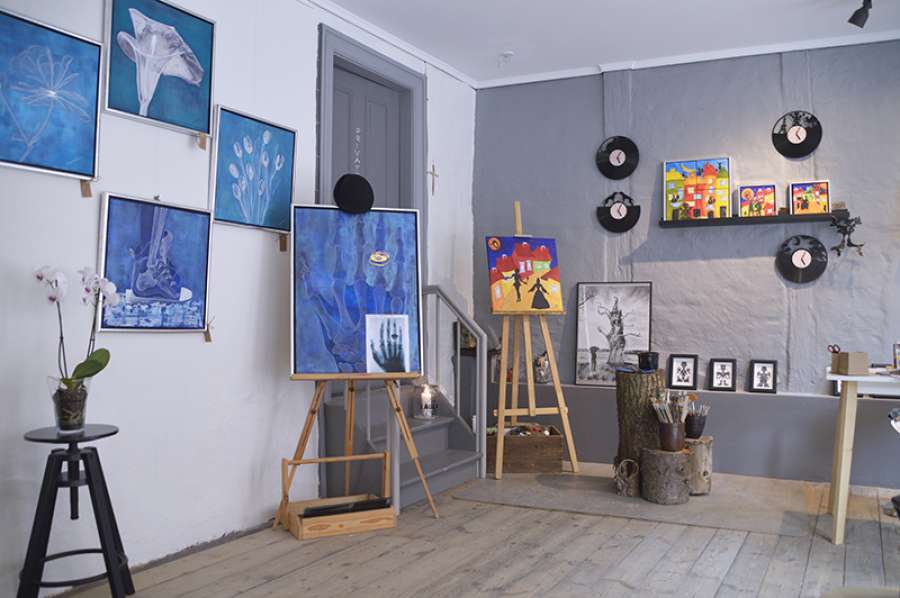 How do your ideas come to you? Do you dream about them?
Sometimes I do, but, I think, most of my ideas come to me from books, when I'm reading and from people, when I travel. Me and Finn, we are traveling quite a lot. I am really afraid of flying, so whenever I am on a plane I try to focus and think about other things. I love meeting people and they create lots of ideas inside of me. When I travel the places are important, but people are even more important for me.
Any plans for the future?
Soon I will start to exhibit artworks of other artists. I want to help other artists to showcase themselves. It's a difficult field we are working in, people love art, but the question is if they are wiling to spend money on it? I would like more people to understand, that artists need money when they are still alive, not only after death.
MalRavnArtGallery is not only my work place, it's my dream land. Here I'm selling art, but also organising workshops and many meetings. I want the gallery to be some kind of a culture center in our city - small, but with special atmosphere, with soul.
I really want to connect future exhibitions and events in the gallery with different events happening in Odense city. During the Flower Festival (Blomsterfestival -editor's note.) I would like to showcase artworks with flowers, during Harry Potter festival - art about Harry Potter's universe.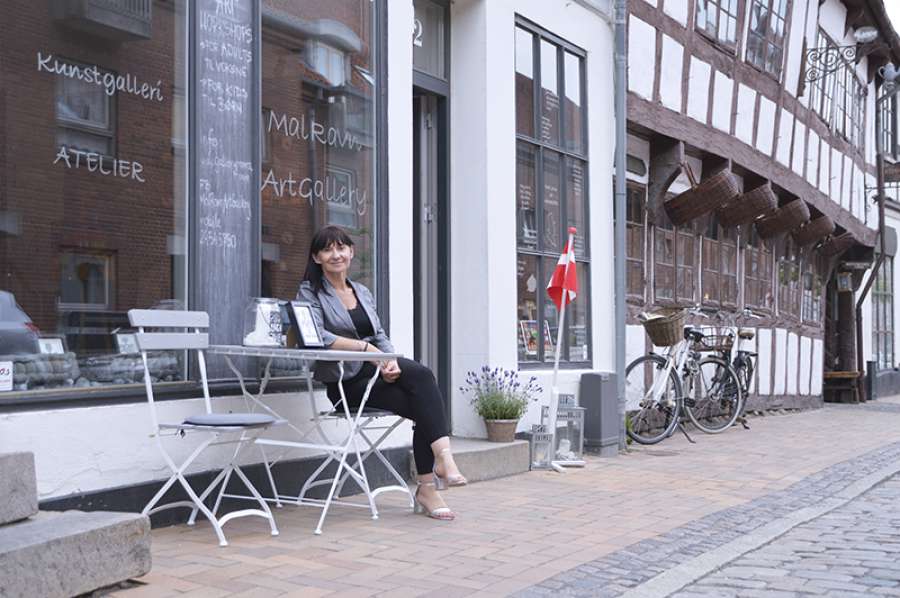 Nedergade is a lovely street, right in the heart if Odense, but also very calm. We are very artistic, there are a lot of unique boutiques: my neighbour - shop Kramboden, a man, who is making instruments, a lady with hand made dolls and dollhouses, other tiny boutiques… I would love to attract more people to visit our street, and encourage them to come inside our shops, boutiques, galleries. We need people here, we love to work here, we don't want to close our businesses. Our roots are in Nedergade and we don't want to move to other places.
My idea is to organise an event "What a Wonderful Art" on our street, during the Flower Festival. I am looking for artists, who would perform different actions in Nedergade and invite the guests of the festival to join. I feel very much connected to the city, I love Odense and I want the art gallery to become a part of Odense's life. I hope people from Odense can help me.
While it feels like Malgorzata could talk about the gallery, her love for art, Odense and people around non-stop for at least for one more hour, we get interrupted by a smiling Brazilian lady, who stopped by to say "hi". Soon our conversation turns to a loud discussion about the last painting workshop Malgorzata hosted here at the gallery and we get lost in time...
When was the last time you visited an art gallery? Find information about upcoming workshops and events at MalRavnArtGallery and get in touch with Malgorzata on the gallery's Facebook page.