Hans Christian Arnklit: transforming public space with street art
Meet Hans Christian Arnklit - a street artist based in Odense, Denmark. You have most likely seen some of his art pieces by simply walking around the city, or if you have attended festivals like Tinderbox, Generator and Havnekulturfestival. Hans wants to bring more colors to the city and enhance public spaces with street art. We sat down to talk about the role of street art in a city undergoing a transformation and behind the scenes of being an artist.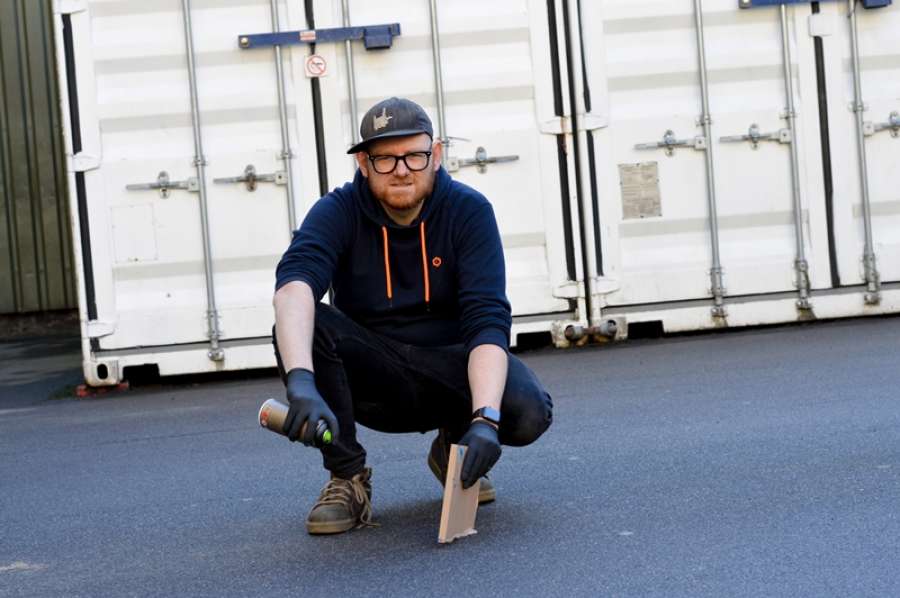 Tell me a bit about yourself. How did your journey as a street artist start?
I moved to Odense back in 2002 because of education opportunities, like many other people. I studied at Den Fri Ungdomsuddannelse, which unfortunately no longer exist. That place really let me explore my creativity - from graphic arts to music.
When I moved to the city, Odense did not have that much ambition. I had the feeling that it was like being in a museum and discovering that the museum is not planning new exhibitions and is just open, showing the same old stuff all over again.
However, Odense has been changing a lot since I moved to the city. I think the beginning of the transformation of Odense in 2012/2013, was a blooming start for me as an artist, as well as for our street art group Byrumspolyfilla.
A lot of construction began around the city at that time and were simply surrounded by a boring construction fence. I wanted to bring more color to the city, to make the areas next to the construction sites nice places to hang out.
One of my first projects back then was covering 20 meters of construction fence with a polar bear made out of pixels. We worked on this together with a group of school kids. Later followed the I LOVE NY ODENSE project. We used crossed stitch method to make an artwork on the fence, which said "I LOVE NY ODENSE." I think it really meant something for the city and its people. Previously it was not really cool to say - I like Odense, everyone was moving to Copenhagen. It is different now.
Today I use the city and its spaces as a playground for my art. One of the reasons I love doing street art, is that so many people get to see it and in some way are moved by that art. I have also done art at different festivals, like Odense Havnekulturfestival, Generator, Tinderbox, Heartland among others.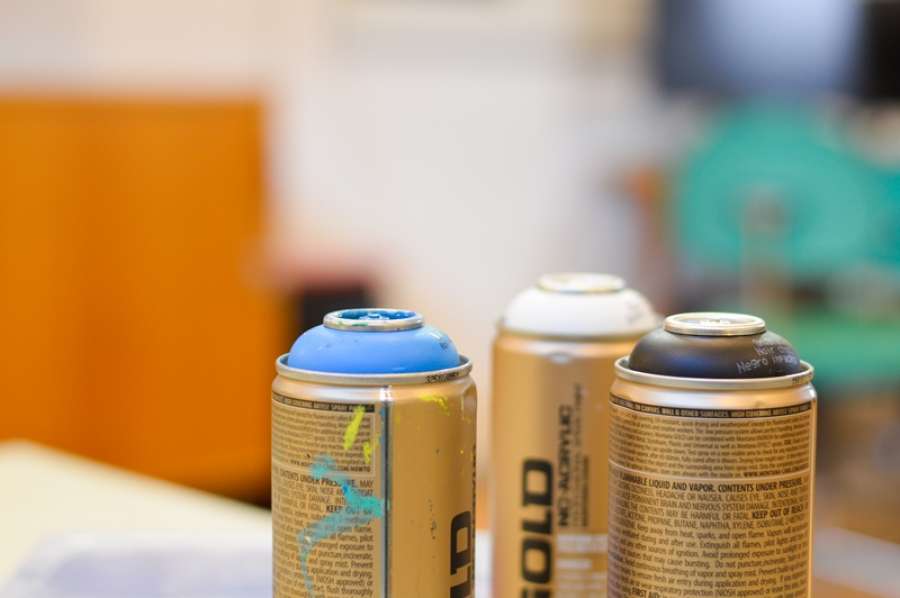 What is the latest project that you did in Odense?
One of my last projects in Odense was painting the family zone on Odense Stadium, in collaboration with OB and Albani. The stadium is quite a cold place, with lots of concrete construction and not many colors. We aimed to bring more colors and create a welcoming and family friendly zone, where families with children could hang out and play around before going to see the match.
What inspires you in your creative process? Where do you get your ideas?
A lot of inspirations comes from New York and stencil art. I also enjoy making art out of small objects, putting them together to create larger pieces. I get my inspiration by looking at street art all over the world. I like to see what others are making and what new I could bring to the street art stage.
I also work closely with other artists. Many of my artworks in and outside Odense are done together with Byrumspolyfilla - a group of street artists. Me and Dan Eskekilde started the group back in 2012/2013 and have been working together on different projects ever since. Sometimes we are 20 people, sometimes it is just the two of us.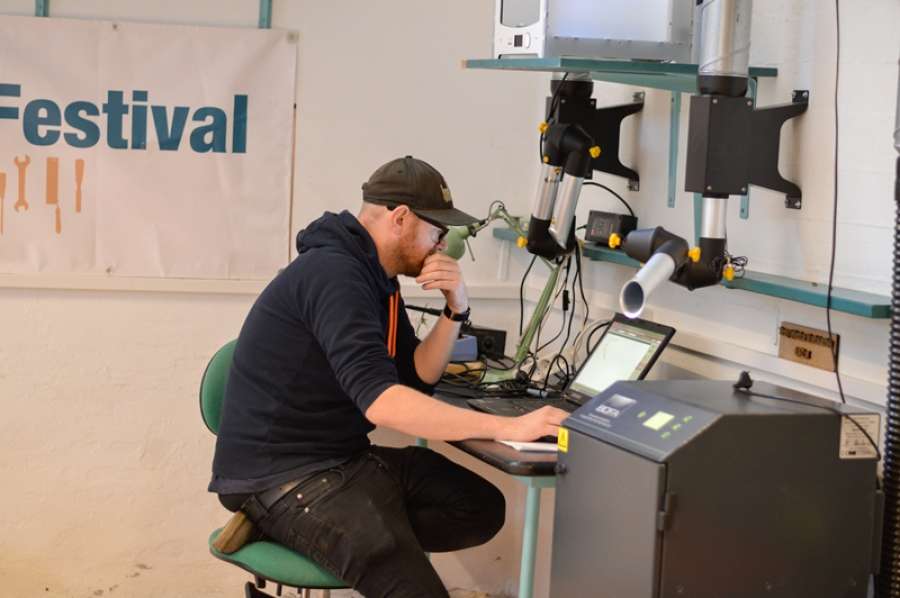 If you would have to name your favorite project throughout your career. Which one would that be?
You know the saying - you love all your children. I really like the Overflowing Paint at Site Silo in Odense Harbour, as well as the artworks we made at the Stadium.
Overfloating Paint at Site Silo project was special, because we worked on it in January. It was minus 4 degrees and we were spray painting up in 30 meters height, the lift was shaking from the wind. It was super cold and we were getting dizzy, but we said if we can do this, we can do anything.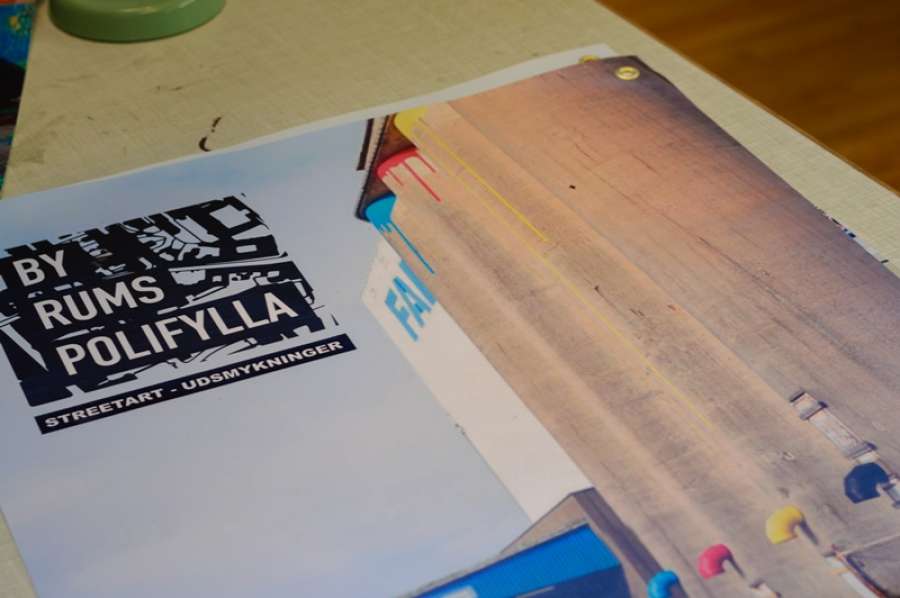 What is your favorite spot in Odense and why?
I have always really liked Odense harbor, though not that much anymore. There are still some unspoiled spots left where I like to go and unwind. Siloøen in Odense Harbour is my favorite place at the moment. It is so raw and rough, and there is water around.
The biggest challenge for you as a creator?
If I get an idea, I go and try to make it happen. Getting the funding is probably the hardest part of my job.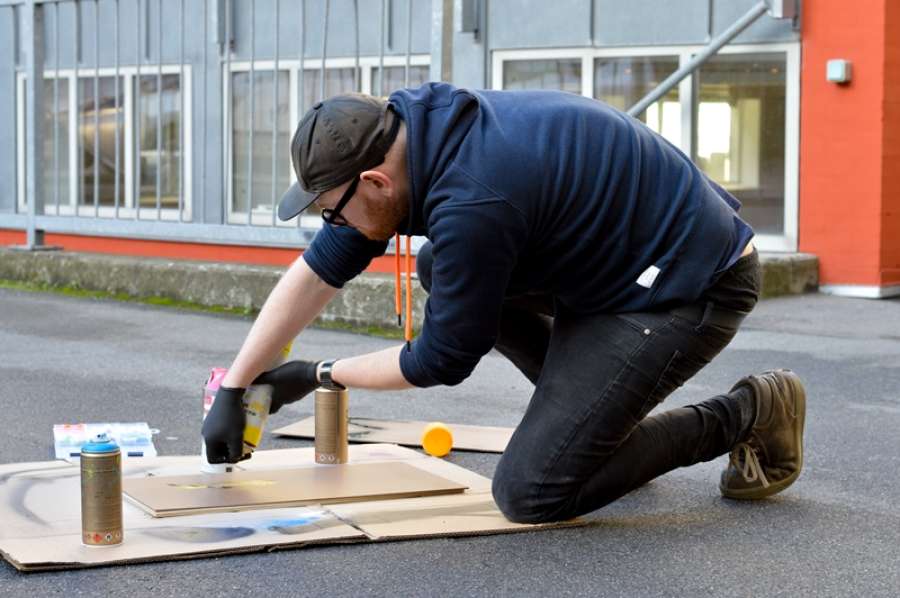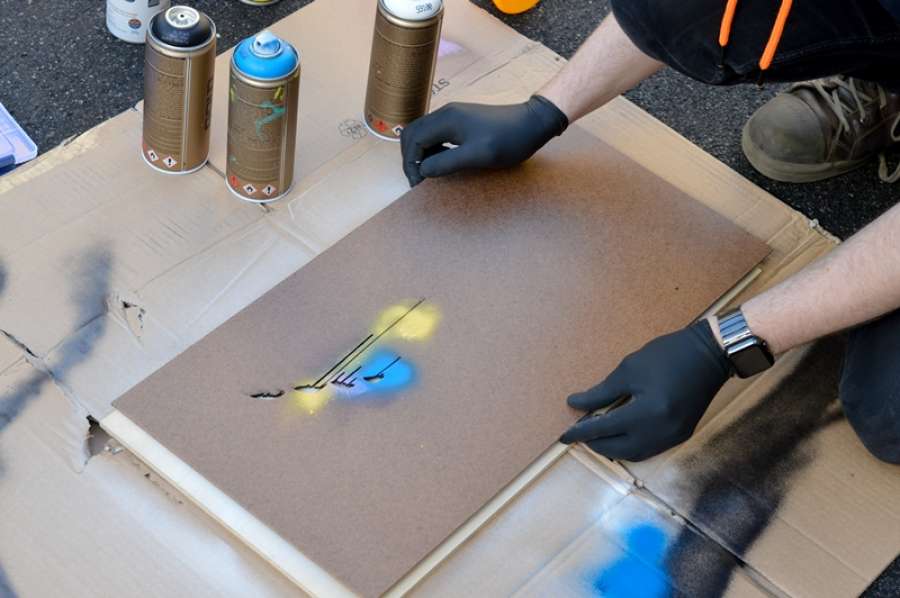 How does your regular working day look like?
There are so many different ways to be an artist. In my case it looks just like a regular job: I spent a lot of time in the office, answering emails, or going to meetings and all that.
Some days during the week I am outside, working with art or maybe I am at The Clubhouse - Maker Space preparing stencils, or maybe I am on a couch at home, buying materials online. I am just a normal person, who really likes his job. I like to make art and to reach out to co-creators and future collaborators regarding my projects.
Doing street art you need to get various permissions, which means I have to reach out to institutions and see if we can make our ideas happen. It is also important to find funding, and there is a lot of work in that.
As an artist, what do you enjoy more - the process or the final result?
I like every part of the creative process, but the best part of it is getting an idea. I think many artists, including me, have a feeling, that the best moment in the whole process is when the idea pops up in your mind. The moment I get an idea for my future project, I feel like "wow - this is crazy! This is a really great idea!" That is the best feeling for me, afterwards it is just hard work. For sure, I love to be out, paint and create. I like to look at the final product and think "okay, this turned out cool!"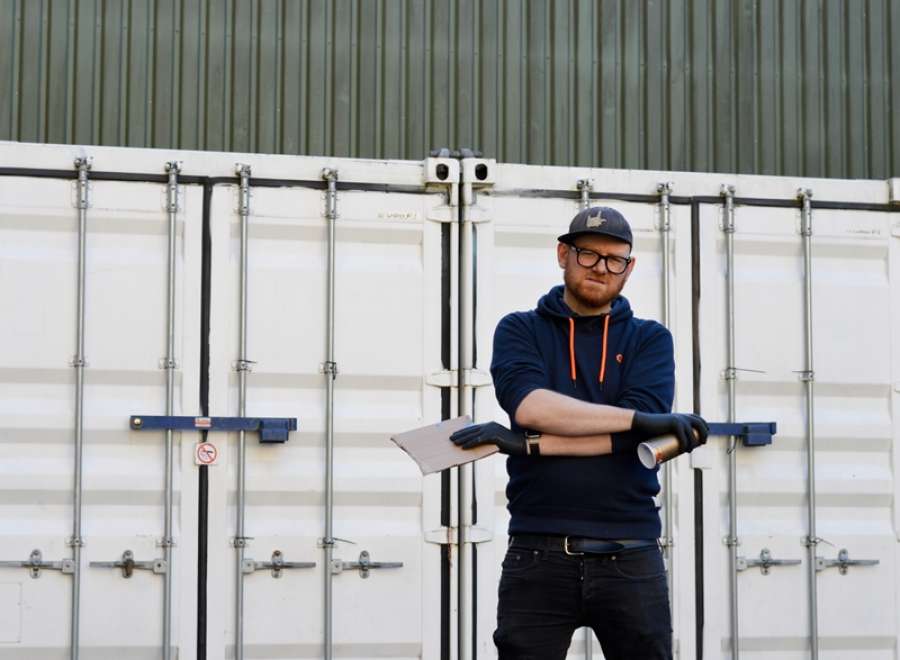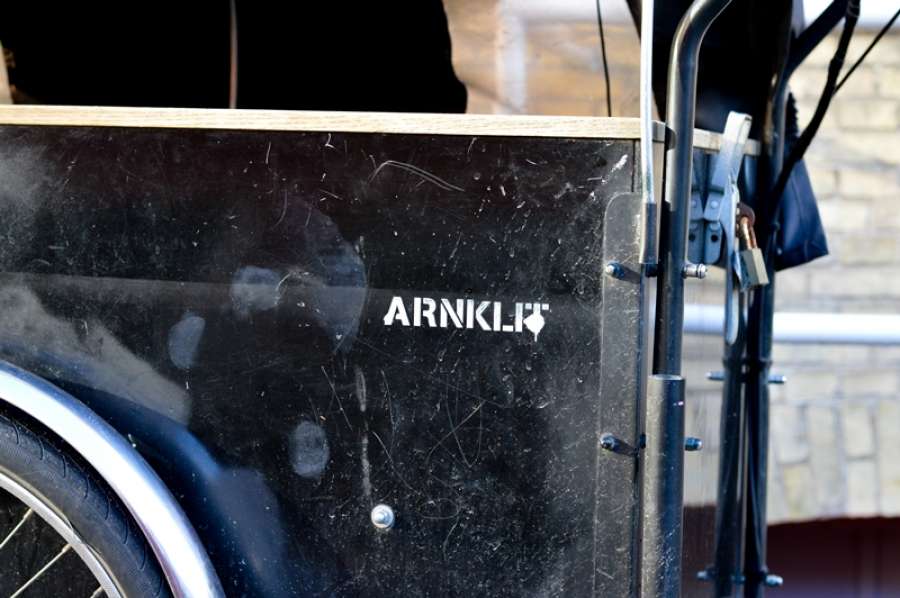 How would you describe the style of your street art?
Sometimes even I am not sure if I have a signature style. I always seek new directions and new techniques. Though if you look at a bigger picture, you can definitely see some connections between my art works. I like clean colors, especially black and white. I like keeping it simple: nothing too messy or overloaded with colors. Imagine street signs - they are clean and provide information in a simple way. That is how I like my art.
What are your plans and dreams for the future?
You never know. I plan to keep doing what I am doing, and what I like the most. In the future, I would love to work and create art works in more places on Funen and other cities in Denmark. It would also be great to try myself in international waters. Let's see what the future brings.
Have a look at other projects by Hans Christian Arnklit and Byrumspolifylla on their website.
Follow Hans journey as a street artist on Instagram and Facebook.