Alexandra Pana: a flute and the dream career
A little romanian girl felt in love with the sound of flute and decided - "one day I want to play like that". Today Alexandra Pana is 28 years old and is soon to graduate from Soloist education at Danish National Academy of Music - Odense.
We talk about love and passion for music, hard moments, life in Denmark and future plans.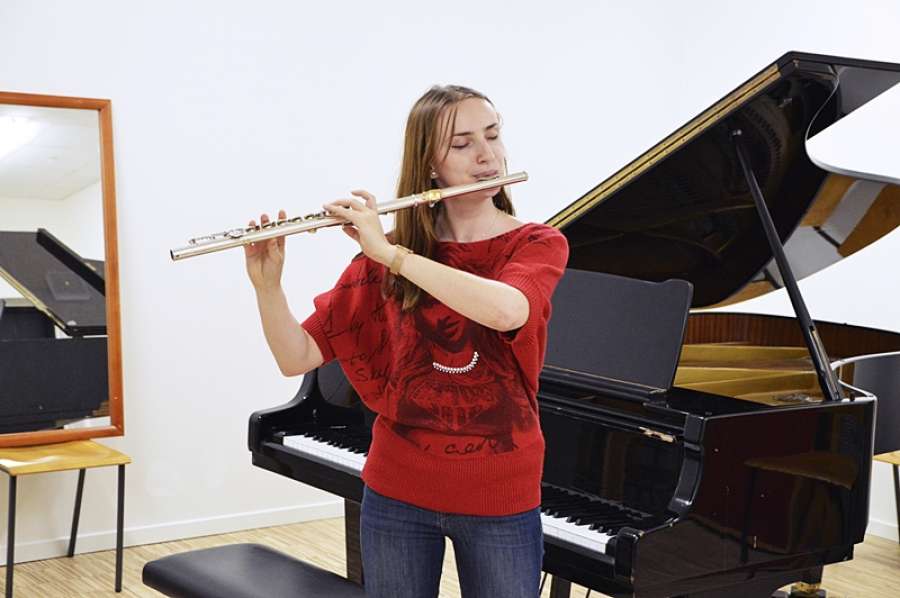 What was your experience with moving to Denmark?
I moved to Denmark six years ago because my sister was studying here. After my bachelor studies she asked me if I would like to continue my music studies in Denmark and I said yes. I really wanted to try something new, meet new musicians and get inspired. First, I moved to Aalborg, where I went to Danish classes and worked in order to buy my own professional flute and apply to the Music Academy. During my time in Aalborg I also had private flute classes.
In a mean time I have applied for master studies at the Music Academy in Odense. It was great that I started learning Danish after I have just moved to Denmark. It helped me so much to communicate with teachers and other musicians when I moved to Odense.
How did you actually choose flute as an instrument to play?
When I was 9 years old I started playing a piano. My father loves music and he was the one who encouraged me to play music. I really liked playing piano, so my private teacher recommended my parents to send me to a music school.
I was so excited to start the music school! However, I was told I was too old to start learning piano, it was such a difficult instrument and one should start being 5-6 years old, and I was already 12. I remember I was so disappointed - piano was my reason for coming there.
I had to choose between a guitar, percussion or many other wind instruments, but I did not see any of them suiting me. My private teacher advised me that maybe I should try playing a flute and once I went to take the enrollment exam, I told them "I want to play a flute". "But do you know how the flute looks like?",- they asked. I could not believe it was that big.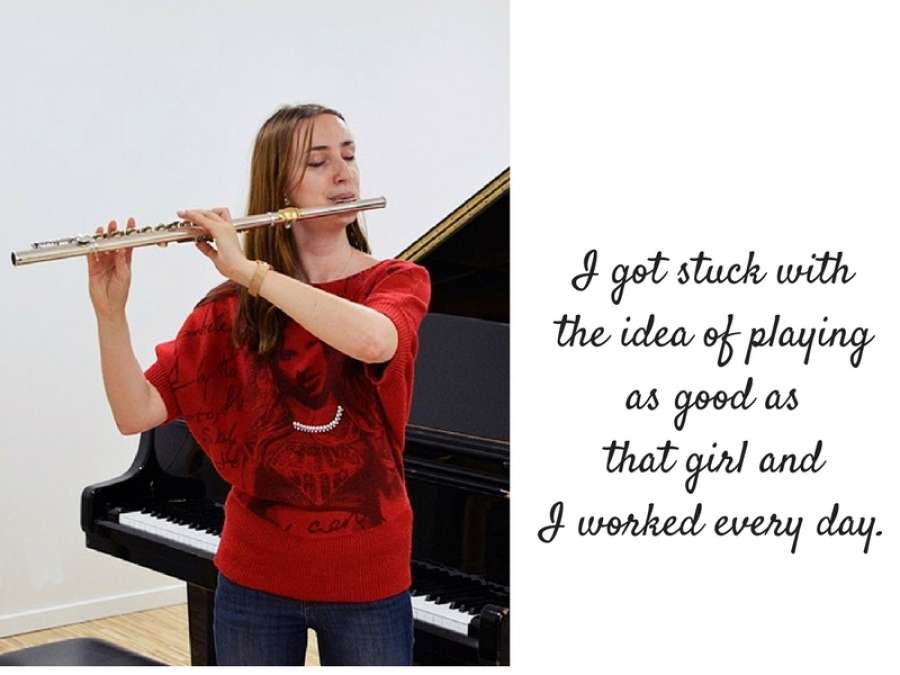 What was your first impression when you first took the flute?
I remember walking through a corridor in the music school, music sounds coming from different rooms. I went to the flute classroom and I was just sitting and listening at the door. There was a girl playing a concert of Mozart for a flute and harp. That was so amazing, I was so in love in that moment and said "one day I want to play like that".
Then my dream started. I got stuck with the idea of playing as good as that girl and I worked every day. It did not matter that the sound was not good. I would tell myself - tomorrow I will practice more, it will be better.
Did you ever had this moment - that is it, I am quitting this?
There were so many. It started in high school when the technical part became harder and you need so many hours of practicing. Sometimes I felt frustrated. Before the big competitions I would get really nervous: my fingers did not work, I could not focus, I could not play. With time I have learned how to control that, how to calm down and focus on the stage.
So how do you calm down before going on a stage?
I just make some breathing exercises. I do not play my repertoire through on the day of the concert, just some passages and fragments. I know that I have already worked and practiced a lot before the concert, so I try not to stress myself too much. It is important to drink a lot of water, be positive and think of nice things.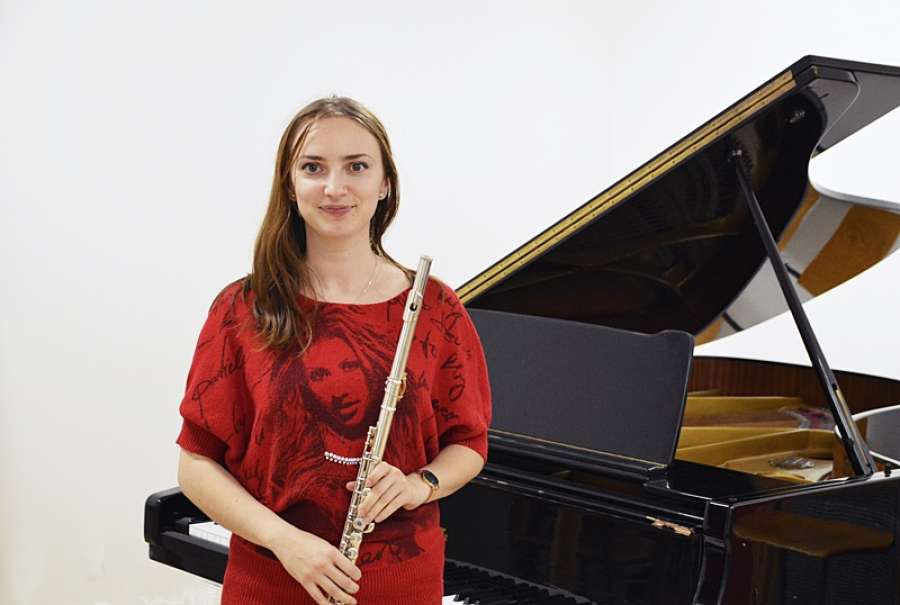 What do you think about when you are up on the stage?
I am usually nervous for the first two minutes after I go up on the stage see the public. Later I go into the music and I enjoy it so much, that then it is just me and what I have to play. I do not really see people around while I am playing.
I try to give people a gift, they come to get some nice feelings, nice music. I think if you do not transmit anything to your audience, then you did that concert for nothing. I believe the meaning of our work is for our listeners feel something.
I am also feeling, living that moment. Sure, sometimes there are situations when it is too warm in the room or your neck gets really dry, but you have to be prepared for anything.
People see classic musicians dressed in nice clothes, but what happens behind the stage?
Preparing a concert or repertoire takes a lot of time and practice. There are a lot of hours of practice you do not see when you go to the concert. I am also taking the risk to be a freelancer musician. The freelancer's life is not very easy, it is challenging - you need to work hard, be creative and look for opportunities.
Besides performing, I also teach music in Copenhagen and Svendborg. I teach kids between 4 and 6 years old, as well as some teenagers. I really enjoy teaching. I used to teach back in Romania, before moving to Denmark. It is an interesting experience being on the other side of the class. I really enjoy the process of teaching and satisfaction of seeing the result, that a person learned something from you.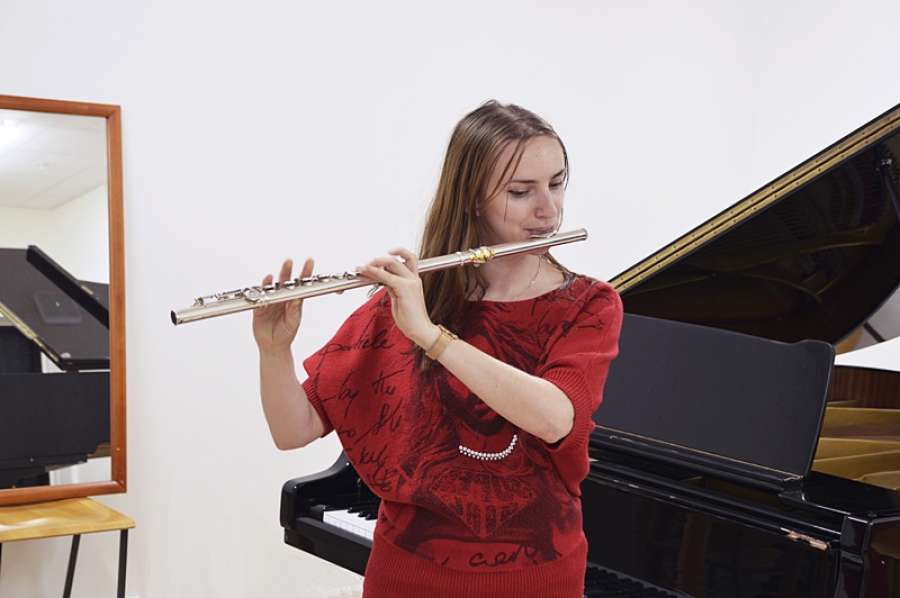 Do you have any idols or role models?
My current teacher, who is also the first flute in Odense Symphony Orchestra, inspires me so much. He believed in me since I started at the music academy in Odense. My teacher inspires me not only in a musical way, but also in a human being way. I have never seen such a calm and always so positive person.
There are so many other flutists around the world, in orchestras of Berlin, Paris, London etc. Every four years there is an international flute competition taking place in Odense. That is the time when the most known flutists come to be a part of the jury and judge other flutist from all over the world. After the competition the jury gives master classes to the students of the conservatorium and it is a really good opportunity for us to meet them, play for them and get inspired.
What is your dream as a musician?
I really love what I do. One day I would like to play in a professional symphony orchestra. I also like teaching and being a freelancer. I love playing chamber music, so I have an idea of having my own ensemble and touring in chamber music festivals and different events.
At the beginning of December I will have my first Soloist concert at Odeon in Odense.
Other projects you are working on?
Sometime ago at Odense music academy I have met a Romanian singer, contratenor. We became very good friends and started playing together. One day we tried improvising and were surprised by a result. It was so nice to have a contact with another musician, creating the music. We plan to make some projects together in the future. In the future really want to focus on creating music beside playing other concerts.
Hear Alexandra play at her first Soloist concert in Odense on the 4th December.
Find and get in touch with Alexandra on Facebook and Instagram.